I only have a diddy little bottle of bubbly which came in my gift from C&H, believe it or not we get a Christmas hamper every year from the company. I decided to crack it open tonight as the only thing in the fridge was a HIDEOUS bottle of Lambrini. It's a well known chav's drink which Richi brought not realizing what it was. Anyway the cork popped straight into the ceiling leaving a dent..awesome! No, really.
Oh great Grumpy Old Men/Women has started on BBC 2. I kinda like it really, since one episode featured some women talking about men and bloody hell I don't want to be a grumpy old woman, but one bit was fucking hilarious - you know when you ask a man if they can do a job, something simple, even, they say "I'll do it later/I'll do it tomorrow...Yep." And you know, it won't EVER happen. Later will not arrive. I'm not dissing men but it did make me smile how spot on this show was.
Today it's bitching about Christmas, but I love Christmas.
This is Stumpy as he's now known until we pick him up, I have not met him yet but this his picture on the website..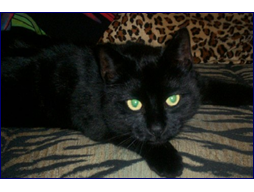 I think he's absolutely gorgeous. Check out his leopard and Zebra print throws!
There's something so nice about sitting at home knowing I have no work 'till Monday, drinking Champagne, smoking a cigarette and hearing The Pouges 'Fairy Tale of New York' on TV. Lovely!